---
Glücksforschung. Was sind die Bedingungen, unter denen sich Menschen als glücklich bezeichnen bzw. glücklich sind? Was versteht man unter Glück und wie kann man es messen? Zufallsglück. Lebensglück. Objektive und subjektive Wahrnehmung in Zeit und Raum. Bewusst und unbewusst. Leid und Glück. Yin und Yang. Das Eine bedingt das Andere, beide im Einklang lassen Harmonie entstehen.
Ein weites Forschungsgebiet und ein gutes Pendant zur Beschäftigung mit dem Thema Schmerz. Zeitgleich entstand also die Werkreihe Happy Dream Shop mit Bildern, Objekten und Installationen auf der Suche nach dem Glück und was Glück nicht ist. Eine künstlerische Spurensuche ...
Happiness Research. What are the conditions that humans need to be happy or name to need to be happy? What does happiness mean and how can one measure it? Happiness by chance, happiness of life. Objective and subjective perception in time and space. Conscious and unconscious. Sorrow and fortune. Yin and Yang. The first one requires the second one, they are mutually dependent, and both being consonant leads to harmony.Another research field and a good counterpart during the work with pain. Accordingly, at the same time, the work serie Happy Dream Shop has been created with paintings, objects and installations on the pursuit of happiness and what happiness is not. An artistical search for traces ...
"Eine der wichtigsten Eigenschaften der Seele ist vielleicht ihre Transzendenz, die gleichzeitige Offenheit für die Erscheinungsformen der Welt und für das Aufgehobensein im Seinsgrund, im Göttlichen, Absoluten und Unbekannten. Dort ist keine Struktur, keine Form, keine Bewegung, kein Konzept, sondern etwas, was all das transzendiert, ein Schweben, ein Geschehen." (Dr. Joachim Galuska*) ... ein bemerkenswerter Gedanke ... du liegst da und meditierst gerade ... Ruhe und Kraft gehen von dir aus ... ich kann sie spüren ... du scheinst mit allem eins ... das beruhigt mich ... manchmal macht es mir aber auch Angst. Die Ruhe vor dem Sturm ... bis die nächste große Welle kommt ... oder einfach eine Glückseligkeit, weil du für einen Moment den Schmerz besiegt hast?"
*Bemerkung: Dr. Joachim Galuska, Psychologe und Psychotherapeut, ehemalige Unternehmensleitung Heilgenfeld Kliniken, aus einem Interview mit der Mainpost vom 01.06.2013
"One of the most important qualities of the soul is perhaps its transcendence, the simultaneous openness to the manifestations of the world and to the upliftment in the ground of being, in the divine, the absolute and the unknown. There is no structure, no form, no movement, no concept, but something that transcends all this, a floating, a happening." (Dr. Joachim Galuska*) ... a remarkable thought ... you lie there and meditate right now ... Rest and strength come from you ... I can feel it ... you seem to be one with everything ... that calms me down ... Sometimes it scares me. The calm before the storm ... until the next big wave comes ... or simply a bliss, because you have conquered the pain for a moment?"
*Comment: Dr. Joachim Galuska, psychologist and psychotherapist, former manager Heilgenfeld Kliniken, from an interview with the Mainpost from 01.06.2013
Lachen ist gesund ... so sagt man im Volksmund.
Lachen ist eines der wichtigsten angeborenen emotionalen Ausdrucksverhalten des Menschen, das nicht nur, aber vor allem in der Gemeinschaft mit anderen seine Wirkung entfaltet. Lachen ist die natürliche Reaktion eines gesunden Menschen auf komische oder erheiternde Situationen, erscheint aber auch als Entlastungsreaktion nach überwundenen Gefahren oder zur Abwendung drohender sozialer Konflikte sowie als Abwehrmechanismus gegen spontane Angstzustände. Lachen ist dienlich zur Festigung sozialer Beziehungen. (Wikipedia)
Lachen kann eine ganz bestimmte Wirkung auf uns haben. Was macht das Lachen mit uns, wenn sich in diesen Bildern zueinander verschiedene Komponenten verändern, wie etwa die Farbe und damit die gefühlte Temperatur der Farbe? 
Lachen oder Weinen, Freude oder Schadenfreude, Ehrlichkeit oder Verlogenheit, Sein oder Schein, Offenheit oder Fassade  und und und ...
Laughter is healthy ... it is said in the vernacular.
Laughter is one of the most important innate emotional expressions of human beings, which not only but above all has its effect in communion with others. Laughter is the natural reaction of a healthy person to strange or exhilarating situations, but it also appears as a relief reaction after overcoming dangers or to avert impending social conflicts, as well as as a defense mechanism against spontaneous anxiety. Laughter is a good way to strengthen social relationships. (Wikipedia)
Laughter can have a very specific effect on us. What does laughter do to us when different components change to each other in these images, such as the color and thus the felt temperature of the color?
Laughting or crying, joy or glee, honesty or hypocrisy, being or appearance, openness or facade and and and ...
Glückseligkeit -
Ein Kribbeln schlich sich zart durch meinen Körper,
der leise atmend auf der Wiese lag
und einen Rastplatz zum Verweilen fand.
Ich ruhte sanft im Dickicht reifer Halme
und ließ mich kühlen von dem Wind,
der leise säuselnd mich in Trance sang.
Weit über mir, trieb, Gold verschleudernd,
das Sonnenschiff im weißen Wolkenmeer,
und unter mir wuchs grünes Gras empor.
Gedanken schwebten wechselnd hin und her,
dem Himmel und der Erde zu, im süßen Flug,
was mich gemächlich in den Glücksrausch trug.
Das Dasein war so leicht und nicht mehr schwer.
Losgelöst von den Problemen dieser Zeit
floh ich entspannt in nie gekannte Seligkeit
Welch herrliches Empfinden,
wenn alle Sorgen schwinden!!
(Friedrich Graf)
Bliss -
A tingling sneaked delicately through my body,
that lay quietly breathing on the meadow
and found a resting place to linger.
I rested gently in the thicket of mature stalks
and made me cool by the wind,
that quietly sung me in trance.
Far above me, driven, squandering gold,
the sun ship in the white sea of clouds,
and green grass grew up beneath me.
Thoughts hovered alternately back and forth,
to heaven and to earth, in a sweet flight,
which carried me leisurely into the rush of happiness.
It was so easy and no longer difficult.
Detached from the problems of this time
I fled relaxed in never-before-seen bliss
What a wonderful feeling,
when all worries fade!!
(Friedrich Graf)
---
Wie Dale Carnegie schon sagte:
Glück hängt nicht davon ab, wer du bist oder was du hast; es hängt nur davon ab, was du denkst.
Happiness does not depend on who you are or what you have; it just depends on what you think.
Und Anthony de Mello fügt an:
Was immer geschieht, an uns liegt es, Glück oder Unglück darin zu sehen.
Whatever happens, it is up to us to see happiness or misfortune in it.

---
'Together we are strong' - einzelne Wollfasern verbinden sich durch Bewegung, Druck, Feuchtigkeit und Lauge zu einem starken und widerstandsfähigen Material. Mal dicker, auch mal dünner, gewichtig oder leicht ... weiterverarbeitet als zweite Haut am Körper oder als bewohnbares 'Schutzgehäuse'. Filz ist archaisch. Filz hat seinen Sinn. Weit ab von Beuys und Morris kann man Filz als das allegorisch wirkende Material schlechthin, als Material mit einem hohen kreativen Potential bezeichnen.
Sonst eher in seiner natürlichen Färbung und monotonen Struktur wird der Filz hier in diesem Bekleidungsobjekt in leuchtenden Farben und stilisierten Blüten gestaltet und mit einem aus PVC, Draht und Bast gearbeiteten Bustier künstlerisch kombiniert. Ausdruck von Leichtigkeit und Unbeschwertheit, von purer Lebensfreude und Optimismus. Knallige Farben in Kombination werden oft als oberflächlich, trivial und leicht assoziiert, obwohl ihre Farbsymbolik sehr tiefgreifend sein kann.
'Together we are strong' - individual wool fibres combine to form a strong and resistant material through movement, pressure, moisture and lye. Sometimes thicker, sometimes thinner, weighty or light ... processed as second skin on the body or as habitable 'protective housing'. Felt is archaic. Felt has its meaning. Far from Beuys and Morris, felt can be described as the allegorical material par excellence, as a material with a high creative potential.
Otherwise, rather in its natural coloring and monotonic structure, the felt here in this object is designed in bright colors and stylized flowers and artistically combined with a bustier made of PVC, wire and bast.
Expression of lightness and carelessness, of pure joie de vivre and optimism. 
Bright colors in combination are often associated as superficial, trivial and light, although their color symbolism can be very profound.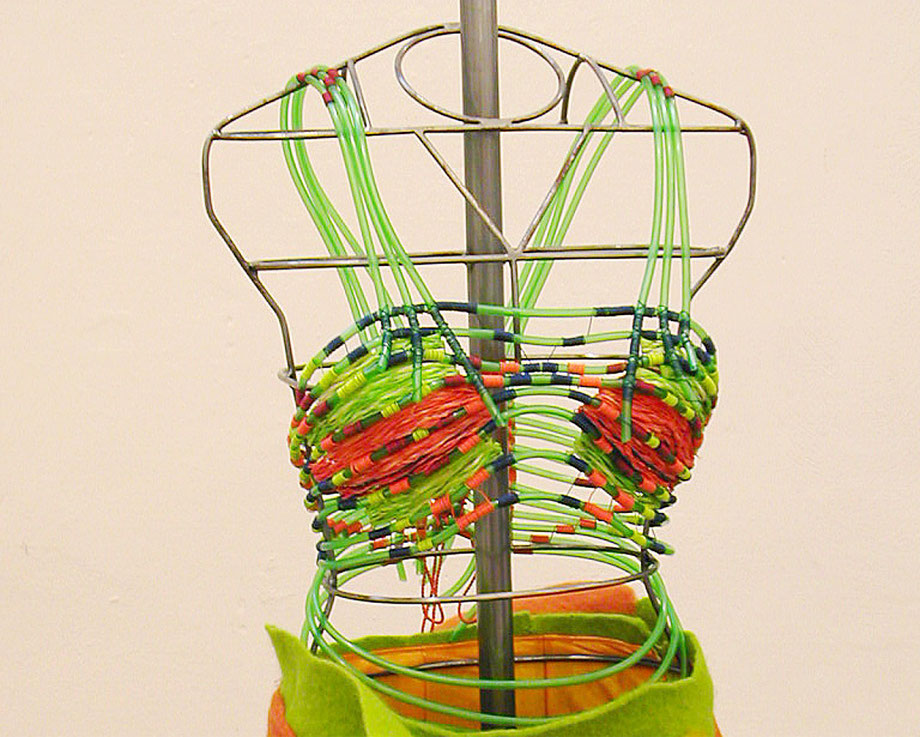 If you're going to San Francisco
Be sure to wear some flowers in your hair
If you're going to San Francisco
You're gonna meet some gentle people there
For those who come to San Francisco
Summertime will be a love-in there
In the streets of San Francisco
Gentle people with flowers in their hair
All across the nation, such a strange vibration
People in motion
There's a whole generation with a new explanation
People in motion, people in motion
For those who come to San Francisco
Be sure to wear some flowers in their hair
If you come to San Francisco
Summertime will be a love-in there
If you come to San Francisco
Summertime will be a loving day
(John Phillips)
Let It Shine
If you're feeling down and out
and your head is filled with doubt
chillout - stay cool- relax - let go
Get on board and float down-stream
close your eyes and kick a dream
chillout - stay cool- relax - let go
Live each day and have a blast
live it like it was your last
chillout - stay cool- relax - let go
Please yourself and raise a smile
you gotta let go to go the extra mile
chillout - stay cool- relax - let go
It doesn't matter if you ain't got gold
sit right back and let the good times flow
chillout - stay cool- relax - let go
So if you're feeling down and out
and your head is filled with doubt
chillout - stay cool- relax - let go
(John Phillips)
Die Idee von einem humaneren und friedlicheren Leben fand ihren gesellschaftlich-politischen Höhepunkt in der Friedensbewegung gegen den Vietnamkrieg und prägte um 1967 das Motto 'make love, not war'. Ein Befreiungsschlag und das Loslösen von alten und eingefahrenen gesellschaftlichen Strukturen. 'Macht euch auf und zeigt Farbe, bringt die Blumen zum Blühen'.
"Das Ziel der Hippies war eine antiautoritäre und enthierarchisierte Welt- und Wertordnung ohne Klassenunterschiede, Leistungsnormen, Unterdrückung, Grausamkeit und Kriege." (Walter Hollstein). Liebe wurde in diesem Zusammenhang nicht in einem egozentrischen, sondern in einem gemeinschaftlichen Sinne verstanden und stand an der Spitze der Werthierarchie.
Beat-Poet Allen Ginsberg propagierte das Konzept der Flower Power, während er im November 1965 einen Protest gegen den Vietnamkrieg in Berkeley, Kalifornien, organisierte. "Massen von Blumen -- ein visuelles Spektakel -- besonders konzentriert in den Frontlinien", schrieb er in dem Essay und schlug vor, dass Demonstranten Blumen an Hells Angels, Polizisten, Presseleuten und Zuschauern als Symbol ihrer gewaltlosen Fürsprache übergeben.
Einst der Sommer der Liebe, jener psychedelischen Jahreszeit, als junge Hippies 1967 in ihr Mekka San Francisco strömten, war die Flower Power gekommen, um mehr eine Denkweise und einen Sinn für Mode als eine politische Philosophie zu suggerieren.
Als sich die Hippie-Gegenkultur aus dieser jugendlichen Agitation (und einer aufkeimenden Drogenkultur) entwickelte und nationale Medien-Aufmerksamkeit erlangte, wechselte die Flower Power von einem Protestwerkzeug zu einem eingestimmten, abgedrehten, ausgewachsenen Lebensstil. Die Stimmung hatte sich verschlechtert, wobei einige befürchteten, dass der Ursprung kommerzialisiert und zu einem flüchtigen Mainstream-Modetrend verwässert worden war und nicht zu einer sozial progressiven Bewegung. So marschierte im Oktober 1967 eine Trauerparade durch den Stadtteil Haight-Ashbury -  "Hashburry", um den "Tod des Hippies" zu beklagen. Dennoch 'Flower Power - Blumenkraft' Mitte der 1960er Jahre war für ein paar Jahre in San Francisco mächtig, lebensfähig, lebensverändernd und schlug große Wellen bis nach Europa. Noch heute ist dieser Geist allerorts spürbar und gilt als Inspiration für heutige Protestbewegungen und freie alternative Lebensweisen.
The idea of a more humane and peaceful life culminated in the peace movement against the Vietnam War and coined the motto 'make love, not war' around 1967. A liberation strike and the detachment of old and established social structures. 'Get up and show color, make the flowers bloom'.

"The goal of the hippies was an anti-authoritarian and dehierarchized world and value order without class differences, performance norms, oppression, cruelty and wars." (Walter Hollstein). In this context, love was not understood in an egocentric sense, but in a communal sense, and was at the top of the hierarchy of values.
Beat poet Allen Ginsberg propagated the flower power concept while helping organize a November 1965 protest against the Vietnam War in Berkeley, California. "Masses of flowers -- a visual spectacle -- especially concentrated in the front lines," he wrote in the essay, suggesting that protestors hand out flowers to Hells Angels, policemen, press people and spectators as a symbol of their non-violent advocacy.
Once the Summer of Love, that psychedelic season when young hippies flocked to their Mecca, San Francisco, rolled around in 1967, flower power had come to suggest more of a mindset and fashion sense than a political philosophy.
As the hippie counterculture developed out of that youthful agitation (and a burgeoning drug culture) and gained national media attention, flower power transitioned from a protest tool to a tuned in, turned off, full-blown lifestyle.
The mood had deteriorated, with some fearing that the origin had been commercialized and diluted into a volatile mainstream fashion trend, not a socially progressive movement. In October 1967, a funeral parade marched through the Haight-Ashbury - "Hashburry" district to mourn the "death of the hippie." Still, 'Flower Power' in San Francisco in the mid-1960s was powerful, viable, life-changing for a few years, and made big waves all the way to Europe. Even today, this spirit is felt everywhere and is regarded as an inspiration for today's protest movements and free alternative ways of life.
Warum sind positive Nachrichten für uns so wichtig? Gute Nachrichten lesen wir selten. "Only bad news are good news", also: "Nur schlechte Nachrichten sind gute Nachrichten", meint zumindest die Boulevard-Presse. Das sei eine alte Erkenntnis und die Menschen wollen es auch nicht anders, so behaupten jedenfalls die Journalisten. Demnach langweilen offensichtlich gute Nachrichten recht schnell, während schlechte Nachrichten emotional mehr aufwühlen. Dabei werden immer Vergleiche zu besseren Zeiten gezogen. Nach dem Motto, früher war alles besser. Aber im Gegenteil, unsere heutige Gesellschaft war nie gesünder und friedlicher.
"Schlechte Nachrichten haben einen schlechten Einfluss auf unsere Psyche. Das ist wissenschaftlich bewiesen. Nicht nur, dass sich unsere Stimmung verschlechtert, wir haben auch weniger Motivation, uns für etwas Gutes zu engagieren. Die Art und Weise, wie Nachrichten präsentiert werden, hat einen unmittelbaren Einfluss auf unser Denken und Handeln. Zum Beispiel, ob wir für wohltätige Zwecke spenden, Müll trennen oder uns sozial engagieren. ...
Sollen Journalist*innen also Krieg, Klimawandel, Hunger, Terror und Armut ignorieren? Nein, aber sie können den Rahmen bestimmen, in dem diese Themen diskutiert werden. Konstruktiver Journalismus arbeitet mit positiver Psychologie. Positive Nachrichten ignorieren keine Probleme, sondern betrachten sie lösungsorientiert. Einige sprechen daher von "Solutions Journalism". Nachrichtenformate wie "Positive.News", "The Goodnewspaper" [Brandon Harvey] oder "Humans of New York" haben sich den positiven Nachrichten verschrieben. "ZEIT Online" schickte eine Zeit lang jeden Tag eine positive Meldung aufs Smartphone. Die "FAZ" berichtet in ihrer Rubrik "Gute Nachrichten, die Sie verpasst haben dürften" über positive Entwicklungen, die im Strom negativer Meldungen untergegangen sind." (aus change - Das Magazin der Bertelsmann Stiftung)
Why are positive news so important to us? We rarely read good news. "Only bad news are good news", at least the tabloids says. This is an old insight and people don't want it any other way, the journalists claim. So obviously good news are getting bored quite quickly, while bad news are getting more emotionally stirring. Comparisons are always made at better times. According to the motto, everything used to be better. On the contrary, our society today has never been healthier and more peaceful.
"Bad news have a bad influence on our psyche. This has been scientifically proven. Not only is our mood deteriorating, we also have less motivation to commit to something good. The way news are presented has a direct impact on our thinking and actions. For example, whether we donate to charity, separate garbage or engage in social activities. ...
So should journalists ignore war, climate change, hunger, terror and poverty? No, but they can determine the framework in which these issues are discussed. Constructive journalism works with positive psychology. Positive messages do not ignore problems, but look at them in a solution-oriented manner. Some therefore refer to "Solutions Journalism". News formats such as "Positive.News", "The Goodnewspaper" [Brandon Harvey] or "Humans of New York" have dedicated themselves to the positive news. "ZEIT Online" sent a positive message to the smartphone every day for a while. The "FAZ" reports in its column "Good news that you may have missed" about positive developments that have been lost in the stream of negative news." (from change - The magazine of the Bertelsmann Foundation)
Vergänglichkeit – wie man es auch denken mag, ob Werden und Vergehen, memento mori, Vanitas, Annica, mono no aware oder entgegen der Ewigkeit. Alles Seiende ist im Fluss der Vergänglichkeit, Unbeständigkeit und Veränderung, befindet sich in einem wiederkehrenden Zyklus, bedeutet Verlust und Erneuerung. Im Daoismus spricht man davon, dass alles im stetigen Wandel begriffen ist.
In der Vergänglichkeit werden die Gebrauchsspuren des Alterns sichtbar, zeigt sich mit der Zeit eine Patina, wird etwas welk und reduziert sich in der Materie. Dem steht die Erneuerung gegenüber. Erneuerung als neue Chance und neue Entfaltung.
Die Melancholie, das Gefühl der Trauer, was mit dem Bewusstsein der Vergänglichkeit und des Verlusts einhergeht, weicht dem Gefühl des Heiteren, der Freude, der Liebe für das Ästhetische und Genussvolle. In der japanischen Tradition spricht man von 'mono no aware' und 'okashi'. Okashi dient hier als 'süßer' Ausgleich für den 'bitteren Geschmack' des Vergänglichen.
Die Japanische Kirschblüte ist ein Zeichen für die Vergänglichkeit aller Dinge. Es wird die Schönheit der in Blüte stehenden Kirschbäume gefeiert, die nicht allzu lange anhält und im Moment der Vollkommenheit wieder vergeht.
Transience – however one may think it, whether becoming and passing, memento mori, Vanitas, Annica, mono no aware or against eternity. All being is in the flow of transience, inconsistency and change, is in a recurring cycle, means loss and renewal. Daoism speaks of the fact that everything is constantly changing.
In transience, the traces of use of aging become visible, a patina appears over time, becomes somewhat withered and decreases in matter. Renewal contrasts with this. Renewal as a new chance and new development.
Melancholy, the feeling of sorrow, which goes with the awareness of transience and loss, gives way to the feeling of cheerfulness and serenity, joy, love for the aesthetic and the pleasurable.In the Japanese tradition, it is called 'mono no aware' and 'okashi'. Okashi serves here as a 'sweet' compensation for the 'bitter taste' of the ephemeral.
The Japanese cherry blossom is a sign of the transience of all things. It celebrates the beauty of the cherry trees in bloom, which does not last too long and passes away again at the moment of perfection.
... that's all you have to do!
In der Natur des Wassers ist es, zu befeuchten und nach unten zu  fließen,
in der des Feuers zu lodern und nach oben zu schlagen,
in der des Holzes, gebogen und gerade gerichtet zu werden,
in der des Metalls, gehorsam zu sein und geformt zu werden,
in der der Erde, bestellt und abgeerntet zu werden.
(aus der Abhandlung Hungfan, Teil des Buches "Buch der Geschichte")
In the nature of water it is to moisturize and flow down,
in that of the fire to blaze and to strike upwards,
in that of wood, to be bent and straightened,
in that of metal, to be obedient and shaped,
in the earth, to be ordered and harvested.
(from the treatise Hungfan, part of the book "Book of History")
"Die Fünf Wandlungsphasen sind das Kernstück der chinesischen Medizin. Sie beschreiben alles, was im Universum existiert, und stellen es in eine höhere Sinngebung und Ordnung, deren Ausgangspunkt das Dao ist. Die Wandlungsphasen setzen nicht nur die kosmischen und irdischen Erscheinungsformen in Beziehung zueinander, verbinden nicht nur den Menschen mit Himmel und Erde und implizieren die untrennbare Ganzheit von Körper, Geist und Seele, sondern sie sind auch Sinnbild des ewigen Werdens und Vergehens, des zyklischen Ablaufs aller Lebensprozesse in Raum und Zeit.
Für das Verständnis der chinesischen Medizin ist die Kenntnis des Systems der Fünf Wandlungsphasen unerlässlich. Je tiefer man ihre energetische und geistige Welt durchdringt, desto mehr Schätze erschließen sich einem - weit über die Medizin hinaus - für das eigene Leben.
Ausgangs- und Endpunkt all dieser Betrachtungen ist das, was die Chinesen als wu ji, die Leere, bezeichnen. Es ist der namenlose Urgrund allen Seins, den niemand wissen kann, das große Geheimnis der Schöpfung. Als Menschen versuchen wir, das, was nicht benannt werden kann, in Worte zu fassen, um das Unfassbare fassbar und uns verständlich zu machen. Der Versuch, die schöpferische Leere in Worten auszudrücken heißt im chinesichen Kontext Dao. Dao gibt dem nicht zu Benennenden einen Namen, ist der Name des Ursprungs von Kosmos und Schöpfung. Und Dao steht am Anfang aller Dinge, so wie "am Anfang das Wort war".
Laotse, der Autor des Dao De Jing, sagt:
Wenn du Dao sagen kannst, dann ist es schon nicht mehr das ewige Dao.
Es ist das Eine, der eine Ursprung, aus dem alles hervorgeht-, etwas, das nicht in Worte zu fassen ist.
die chinesische Kosmogonie wird bei Laotse so formuliert:
Dao erzeugt eins,
eins erzeugt zwei,
zwei erzeugt drei
und drei erzeugt die 1000 Dinge.
Aus dem Einen, dem Prinzip der Einheit, entsteht die Welt der Dualität. In der Sprache der Chinesen heißt das Yin und Yang. Die Dinge der Welt können nur in ihrer Grundsätzlichkeit beschrieben werden, der Tag nur als Tag erkannt werden, weil es die Nacht gibt, der Himmel nur als Himmel, weil es die Erde gibt. Yin und Yang werden nicht als sich ausschließende sondern sich als ergänzende Prinzipien betrachtet, bei denen das eine ohne das andere nicht existent ist. Und Yin und Yang sind keine statischen Größen, sie fließen und gehen ineinander über, wie im Sinnbild der Monade zu sehen ist, wo Yin und Yang in einer fließenden Wellenbewegung ineinander übergehen. So geht der Tag in die Nacht über und der Sommer in den Winter. Und nichts ist im Verständnis der chinesichen Medizin absolut: Im Yin ist stets schon das Samenkorn des Yang enthalten und umgekehrt. ...
Wenn es nun im Dao De Jing weiter heißt: "Zwei erzeugt drei", so kommt es hier zum konkreten Schöpfungsakt. Yin und Yang erzeugen durch ihre Polarität Spannung. Zwischen den Polen beginnt es zu fließen. Und das, was fließt, ist Energie - die Chinesen sprechen von Qi. Alle Dinge dieses Kosmos sind Qi - ihre Form und Gestalt, ihre Substanz wie ihre Energie. So entfaltet sich aus der Einheit des namenlosen Dao die Welt der Dualität, aus deren polaren Spannung alles Qi dieses Kosmos hervorgeht, womit jede Manifestation des Kosmos in dieser Einheit und dem ursprünglichen Strom der kosmischen Energie - dem Qi - gründet."
(aus dem Buch: "Die Fünf Wandlungsphasen" von Klaus-Dieter Platsch, Elsevier GmbH, Urban & Fischer Verlag, München, 2. Auflage 2009)
The Five Phases of Change are the core piece of Chinese medicine. They describe everything that exists in the universe and place it in a higher sense and order, the starting point of which is the Dao. The phases of change not only relate the cosmic and earthly manifestations to each other, not only connect man with heaven and earth and imply the inseparable wholeness of body, mind and soul, but they are also a symbol of the eternal becoming and passing away, the cyclical course of all life processes in space and time.
Knowledge of the Five Phases of Change system is essential for understanding Chinese medicine. The deeper one goes through their energetic and spiritual world, the more treasures open up to oneself - far beyond medicine - for one's own life.
The starting point and the end point of all these considerations is what the Chinese call wu ji, the emptiness. It is the unnamed primal foundation of all being that no one can know, the great mystery of creation. As human beings, we try to put into words what cannot be named in order to make the incomprehensible comprehensible and understandable to us. The attempt to express the creative emptiness in words is called Dao in the Chinese context. Dao gives the unnamed one a name, is the name of the origin of cosmos and creation. And Dao is at the beginning of all things, just like "in the beginning was the word".
Laotse, the author of Dao De Jing, says:
If you can say Dao, it is no longer the eternal Dao.
It is the One, the one origin from which everything emerges, something that cannot be put into words.
The Chinese cosmogony is formulated in Laotse as follows:
Dao generates one,
one generates two,
two generates three
and three generates the 1000 things.
From the One, the principle of unity, the world of duality arises. In the Chinese language, this is called Yin and Yang. The things of the world can only be described in their fundamentality, the day can only be recognized as day, because there is the night, the sky only as heaven, because there is the earth. Yin and Yang are not seen as mutually exclusive principles, but as complementary principles, in which one is non-existent without the other. And Yin and Yang are not static quantities, they flow and merge into each other, as can be seen in the symbol of the monad, where Yin and Yang merge in a flowing wave movement. Thus the day goes into the night and the summer into the winter. And nothing is absolute in the understanding of Chinese medicine: in the Yin is always the seed of the Yang and vice versa. ...
If Dao De Jing continues to say: "Two creates three", then the concrete act of creation arises here. Yin and Yang create tension through their polarity. It begins to flow between the poles. And what flows is energy - the Chinese are talking about Qi. All things of this cosmos are Qi - their form and figure, their substance as their energy. Thus, from the unity of the nameless Dao, the world of duality unfolds, from whose polar tension all Qi of this cosmos emerges, with which each manifestation of the cosmos in this unity and the original current of cosmic energy - the Qi - is founded."
(from the book: "Die Fünf Wandlungsphasen" by Klaus-Dieter Platsch, Elsevier GmbH, Urban & Fischer Verlag, Munich, 2nd edition 2009)
Durch die Bewegungskunst Qigong bin ich mit der tiefgründigen Philosophie des Daoismus in Berührung gekommen. Seitdem fasziniert sie mich mehr und mehr. Der ursprüngliche Daoismus soll die älteste Wissenschaft vom Leben sein, geprägt durch viel Erfahrung und langes Forschen der Alten Chinesen. Ein durchaus schlüssiges Modell, was durch die Beobachtung und die praktische Beschäftigung mit der Natur - den Menschen einbezogen - und des Kosmos über die Jahrtausende entwickelt wurde. Die gewonnene Erkenntnis und das Arbeiten mit dem Qi drücken sich in vielen verschiedenen Traditionen und Schulen zur Lebenspflege (Yangsheng) aus. Der ganzheitliche Ansatz mit seinem weiten Spektrum auch für die Kunst hat einen großen Einfluss auf meine künstlerische Tätigkeit.
Through the art of movement Qigong I came into contact with the profound philosophy of Daoism. Since then, it has fascinated me more and more. The original Daoism is said to be the oldest science of life, characterized by a lot of experience and long research of the Ancient Chinese. A very coherent model, which was developed over the millennia through observation and practical employment with nature - involving humans - and the cosmos. The gained knowledge and working with the Qi are expressed in many different traditions and schools for the care of life (Yangsheng). The holistic approach with its broad spectrum also for art has a great influence on my artistic activity.